Unified Endpoint Management or UEM software is an absolute essential in the everyday operations of a managed service provider. Without UEM software, it's near impossible to manage endpoints of a remote workforce that's scattered across cities. A powerful unified management software tool can make a world of difference in managing client networks efficiently, but it all boils down to picking the UEM software that fits your business best.
In order to find what UEM software fits you best, you need to understand:
What is UEM software?

What are the benefits of UEM software?

What should you look for while picking the best UEM software?
What is unified endpoint management (UEM) software?
Unified endpoint management software, or UEM software is a tool that helps managed service providers (MSPs) and IT service professionals manage all the endpoint devices within a company in one place. UEM software encompasses a diverse set of assets within the client environment, such as servers, laptops and workstations with different operating systems running Windows, Mac, or Linux, and even mobile devices such as phones and tablets.
A powerful unified endpoint management (UEM) solution contains all the features an MSP needs to monitor and manage endpoints remotely. These features include asset inventory, patch management, hardware and performance monitoring, remote software and OS deployment, automated asset maintenance, remote access and control capabilities, comprehensive policy sets to manage assets at scale, condition-based and AI-driven alert system, IT documentation, and more.
UEM software brings everything together.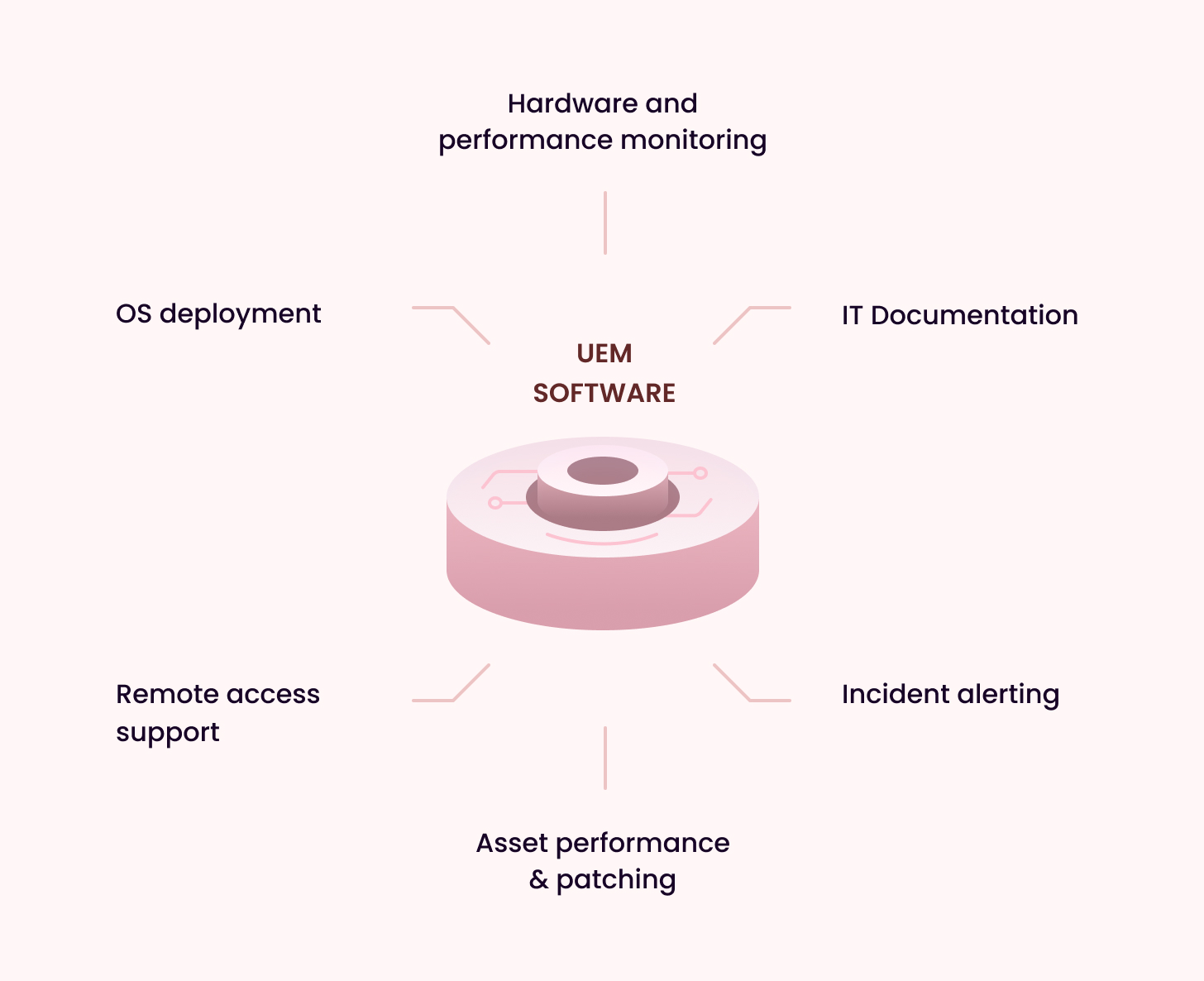 Benefits of a unified endpoint management (UEM) tool
All in one place
The best part of a unified endpoint management platform is that it's unified. This means that all the assets you need to worry about, and all the tools you need to manage them—your scripts, patches, IT documentation, remote access software, and other connected tools, are readily available within the platform.
Improved data security
Modern UEM software that is built on the cloud are an absolute must today, where ransomware attacks happen almost every day. Strong security features such as IP whitelisting, session timeouts, and 2-factor authentication can keep your platform secure and protect your data from a multitude of digital threats.
Proactive incident resolution
With condition-based and AI driven alert management, powerful patching, and automation, spot issues even before they're reported and instantly apply the solution to the entire client network in a matter of minutes.
Greater visibility
The best unified endpoint management software can help you manage devices at scale, while also enabling you to zoom in on each endpoint at a granular level. You can monitor an array of metrics and processes in minute detail to assess the health of the endpoint and decide on your next steps with clarity.
What should you look for while picking the best UEM software?
Scales as you grow
UEM software that's good for managing 10 endpoints should be equally good when you're managing 1000 endpoints. Explore how well the UEM software solution can handle higher endpoint loads to avoid the pain of having to find a new tool and migrate all your data and processes in the future.
Growing ecosystem of integrations
To keep your client's network safe and healthy, you need the right tools for the job. The UEM software solution you use needs to connect with the tools that suit you best, across business functions such as data backup, patch management, antivirus management and so on.
Intuitive, modern interface
Outdated UEM software can slow you down with too many clicks and convoluted processes to dampen your productivity. A modern interface can eliminate that pain point by helping you neatly organize your endpoints, bring relevant workflows together, and help you perform your everyday actions easier and faster.
Great value for money
Lastly, the UEM software you pick has to provide a compelling value proposition. It needs to have the right balance of functionality and cost, to ensure that the UEM software provides great value for your business without burning a hole in your annual budget.
SuperOps.ai is a modern, highly intuitive unified endpoint management platform that streamlines IT operations through a unified set of features and a deeply connected ecosystem of tools to maximize productivity, keep client endpoints secure, and grow revenue while keeping costs down.