Modern-day offices rely heavily on IT right from onboarding and implementation to security, and seamless integration. This is the reason that most businesses, irrespective of their size, now employ the services of a Managed IT Service Provider or IT MSP. This is far more critical for those businesses that either are growing or have grown to a size where a centrally manned IT management team cannot provide the proper coverage. This has led to the demand for software and SaaS infrastructure that helps them in providing more reliable, and better responsive service.
Keep in mind that for an MSP, the main objective is to effectively manage clients' IT infrastructure. In order to achieve this, it must first aim to streamline its request management procedure and this is where a ticketing system comes in. A robust ticketing system allows for better reporting and tracking, enforcement of dynamic SLAs, better communication with end users, optimization of resources, and, thus, a far greater IT support experience for all parties involved.
Why is the MSP ticketing system important for an MSP Business?
A ticket is a record that the customer creates of a technical issue they faced while performing their duty. When a ticket is created, the IT MSP gets notified of the issues. They then assign it to the right set of technicians to pick up the task and document the steps taken to resolve issues—all in a single record. Also, as the ticket progresses through multiple stages of resolution, the original user and MSP can both track and ensure that pre-agreed SLAs for such issues are met.
Without a ticketing system, there will truly be no organized way to actually file a complaint or issue that will help keep track of the resolution. It's a record that answers all these questions: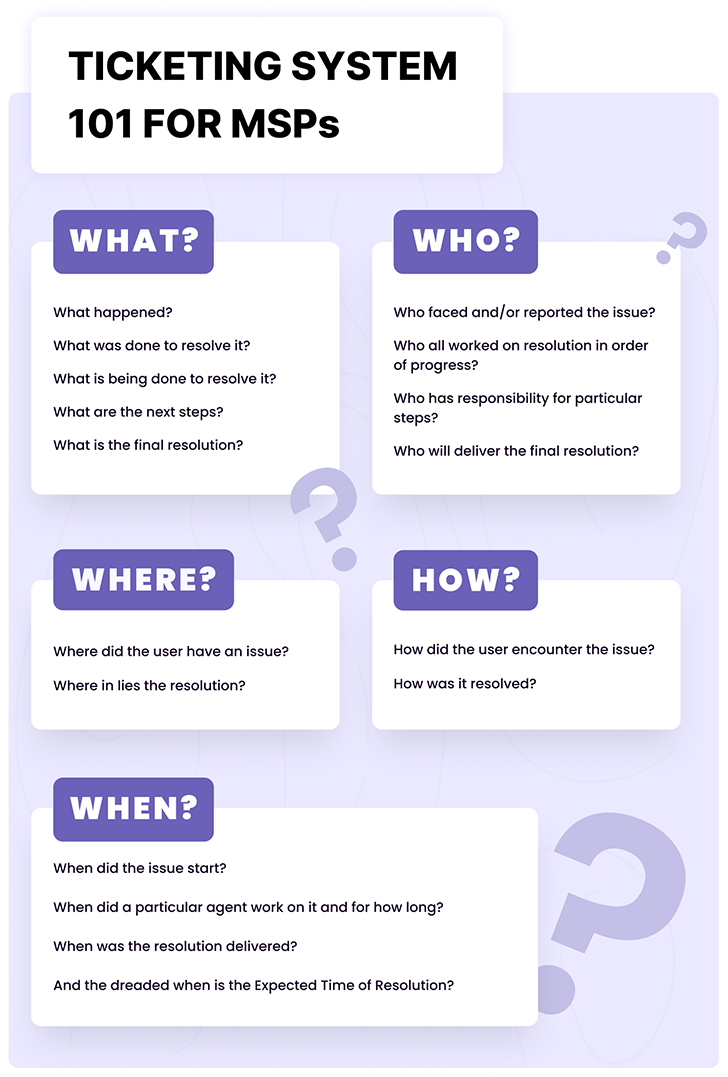 Every function of this record helps with improving efficiency for an MSP and quality and uptime for the company.
Recording of 'What' and 'How' helps set up knowledge articles for future reference. While the 'Who' and 'When' works to improve the process workflow, switching out agents or teams who didn't contribute much or delayed the resolution. The deciphering of 'Where' helps in assessing the compatibility issues in systems and workflows.
Therefore, every ticket is an opportunity for an IT MSP to improve and the ticketing system makes improvements possible. Imagine a scenario where human time and effort is used to convert user queries, complaints, and requests into tickets. Without automation, you are likely to encounter a high risk of human error and missing messages in the system.
A ticketing system with access for users on both ends solves the issue permanently; add in an email automation system for ticketing and we are covered on all aspects. Similarly, manual queue management is the most tedious work but luckily automation takes care of that too—saving billions of minutes globally in issue resolution (if not more). A good ticketing system ensures optimum resource utilization for an MSP—by ensuring that no ticket is left unattended, no ticket has multiple people working on it and no one is sitting idle with a ticket assigned to them.
Also when a single issue affects multiple users, the ticketing system can help flag them and raise it as a priority for the agents working on this resolution. You can choose to deprioritize a critical issue that affects a single user and work on a less critical issue affecting hundreds of users, depending on business impact (we said deprioritize, not ignore). This also helps communicate workarounds and business-critical information in the right time frame.
A ticketing management system almost always ends up reducing the resolution time and that's a plus for clients. And, a satisfied end user increases your chances of not just being your client's first choice among IT MSPs but also for more recommendations.
So, now that we know what a ticketing system does for an MSP and its importance in the whole process of IT support, we can now look at what kind of ticketing system will work for your company. Since every client has different needs and every MSP uses client-specific workflows, tools, and software for support, a similar compatible ticketing tool is needed for efficient support. We will now see how we can select a good, if not perfect, ticketing system to better optimize your support services.
| | |
| --- | --- |
| Looking for an IT ticketing system that fits your bill? | |
How to choose the right Ticketing tool for MSPs?
Now that you know that you can't do without, we need to discuss how to select a good online ticketing solution for your MSP. We think we can break down the process of choosing a good ticketing tool into 4 aspects:
Scalability and reliability 

Support and implementation
So, let's start with the first one: the cost of a ticketing tool for the MSP:
Now, compared to the advantages and cost-efficiency that a ticketing system brings, the tool's cost may not be high but still there is a budget constraint you need to factor in. A free trial is a great way to try a product like a ticketing tool; like the 21-days we provide at SuperOps.ai. It allows your team to use it in real-time and understand the hits and misses. Remember, MSPs are a revenue-driven industry and internal revenue optimization sets a great precedent.
Second is the functionality; we will divide this into two parts:
Secondary - all other functions, features, and integrations
Beginning with the primary, a ticketing system for MSPs has to manage tickets from creation to resolution and archiving with ease of tracking, assignment, delegation, automated queue management, SLA implementation, QC and supervision access, and data reporting. Everything must not just be available as a feature but must also be easy to learn and use. 
In secondary, we see the variance in the list of all features and integrations that are useful to MSPs. It is an added perk if the product features come bundled with the ticketing system or vice versa. For example, our SuperOps.ai PSA is not just great at ticketing but comes with full PSA capabilities and RMM functionality, which are mission-critical for all IT MSPs. You need to choose ticket management tools that tick all the right boxes for you.
Third is scalability and reliability.  Remember depending on your MSP size and clientele, the product must not add too much to the costs in the long run. Also, depending on your growth trajectory, the ticketing system must be capable of faster integration with newer users, locations and on-premise agents. It must stay reliable across incidents and reporting must not falter.
Fourth is the support and implementation, which simply means how easily a ticketing solution can be introduced in your workflow and after-sales support. You need minimal disruption to your work during implementation and rely on minimal training time ensuring not to make it a difficult task for you or your client. Support is the key to ensuring the smooth functioning of your system and providing client satisfaction.
Lastly, we have data reporting. You can also gain access to in-depth data insights with the correct IT ticketing system enabling you to identify trends and make targeted cost-saving choices.
If you're still with us and have not booked yourself a demo of SuperOps.ai, maybe you are still researching the best available ticketing system for your company.
Fair enough, we already shared with you our thought process on how such selections must be made at any IT MSP. Now, considering these aspects we decided to test our product against the best of the competition and tried to assess where exactly do we rank among the top 5 ticketing tools for IT MSPs.
With the domain of IT MSPs being already set, we narrowed down the field to a few ticketing solutions which include —
Manage Engine Servicedesk Plus
Choosing these tried and tested ticketing solutions also allows us to skip the third consideration, scalability and reliability, as all of them are established and/or reputed names.
 Let us now begin evaluating these products based on the criteria we discussed earlier.
The cost of the solution
Out of all our options, free trials are offered by SuperOps.ai, Halo PSA, Freshdesk, Zendesk, Zoho Desk, Manage Engine Servicedesk, and Itarian.
N-Able MSP Manager seems to be the only exception.
As for pricing—SuperOps.ai, Halo, Zendesk, and Freshdesk all work on a per agent per month subscription model. Most of them offer discounts when billed annually. While there is a basic "Rise" tier of SuperOps.ai subscription, which begins at $29, we suggest you pick the $45 "Grow" tier for more features; also if you're looking for an industry-leading RMM solution in the tow there is the "Ultra" tier at $99 per agent/month. Zendesk begins its tiers at $49 and goes up to $99. Halo has dynamic pricing which begins at $99/agent for 1-3 agents and goes down to $45 per agent if there are more than 100 agents using it for your MSP.
Then comes the catch.- Zoho Desk, Freshdesk, and Itarian allow you to use their software free for up to 3 agents (Zoho), 10 agents (Freshdesk), or upto 1000 nodes (if no RMM is included for Itarian). Even with RMM included, Itarian charges as low as $1.25 per node/month for the whole suite and even lower when billed annually. After 3 agents, Zoho begins at $14 per agent/month. Similarly, after 10 agents Freshdesk begins with a basic tier at $15.
Zoho Desk, Service Desk Plus and N-able also encourage you to reach out and get a custom quote for their services too.
At SuperOps.ai, we believe that transparency is the first step towards building trust and thus a great client-vendor relationship. So we are not into this custom quote practice and we surely don't think clients like it too. Sure, you may get a quote that sounds cheaper than other products in the market but how do you know you are getting the best price they offered among other clients?
Our rankings for price, for just the ticketing solution, are:
Functionality and integrations
All our contenders do well in ticketing solutions. Freshdesk, Zendesk, Zoho Desk, N-Able, and Service Desk Plus have been around for quite some time and are renowned for their helpdesk and ticketing capabilities but they serve many domains. Itarian's solutions for end-to-end IT support are also much admired, as it's a proper RMM with a ticketing solution included. Halo and SuperOps.ai are banking on their modern interfaces and better automation of ticket and queue management. So we are marking everyone almost the same on the primary functionality. On with the secondary.
For an IT MSP, Remote Monitoring and Management (RMM) functionality is mission critical and this service is offered alongside ticketing by SuperOps.ai and Itarian. Halo, N-able, ServiceDesk Plus, and Zoho Desk integrate with remote support tools that are part of their parent company's product portfolio. Zendesk and Freshdesk integrate with other popular tools.
SuperOps.ai, Halo, Zendesk, Zoho Desk, and Freshdesk handle automation well followed by N-able.This is not so evident for ServiceDesk Plus and surely not present for Itarian.
In terms of Integrations, Halo rules the roost followed by SuperOps.ai, Zoho Desk, Freshdesk, ServiceDesk Plus, Zendesk, N-able, and Itarian in that particular order.
Here are some more important functions and how these IT ticketing software fare on those: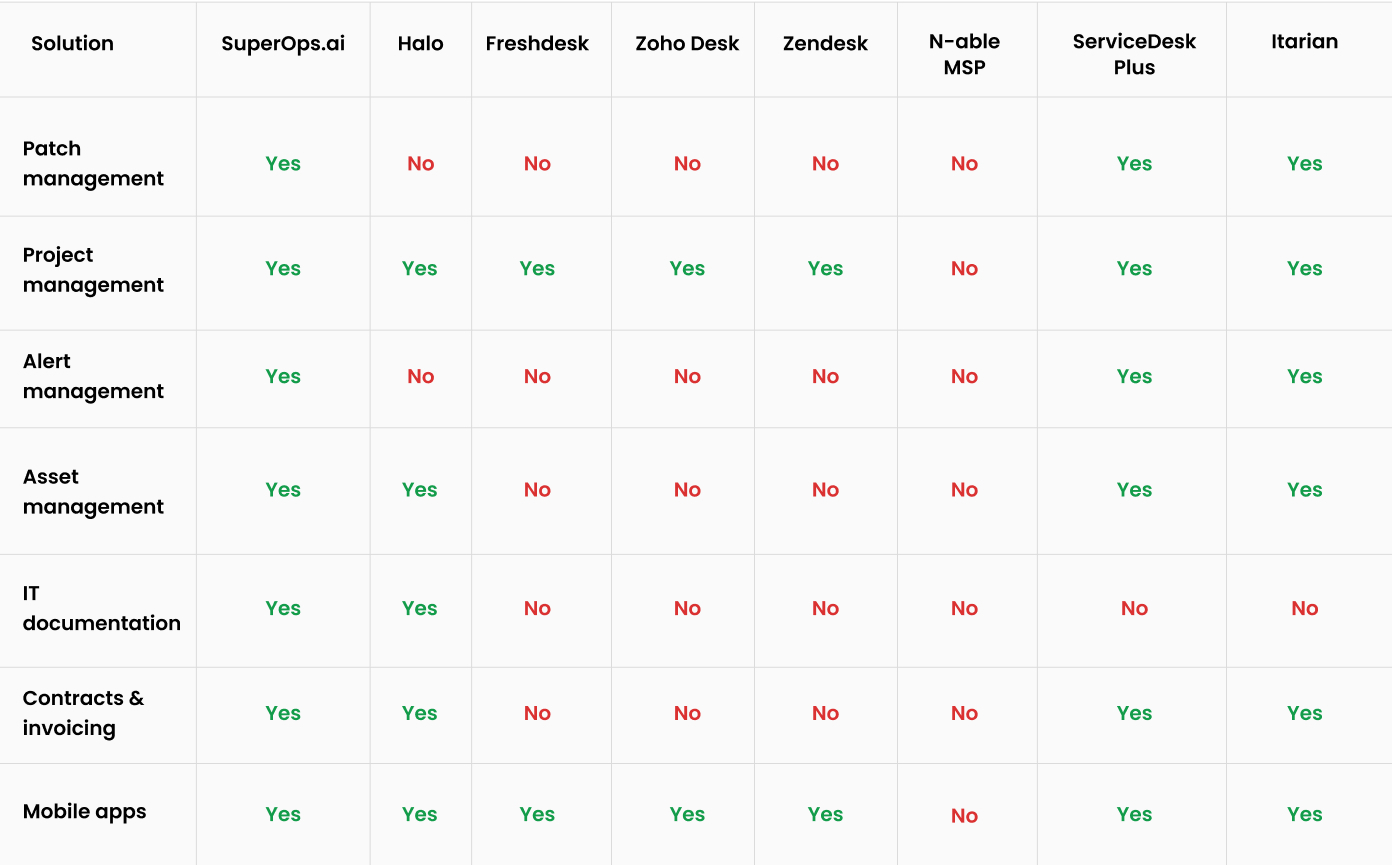 While we rule the roost in terms of additional features and integrations, Halo, Itarian and ServiceDesk Plus get close.
Ease of implementation, and support provided
For accuracy and objectiveness, we are using G2 reviews for this section. Here are the scores.
| | | | |
| --- | --- | --- | --- |
| Solution | Support | Ease of implementation | Average score |
| SuperOps.ai | 8.5 | 9.3 | 8.9 |
| Itarian | 8.8 | 8.6 | 8.7 |
| Freshdesk | 8.8 | 8.5 | 8.7 |
| Halo | 9.7 | 7.4 | 8.6 |
| Zoho Desk | 8.2 | 8.2 | 8.2 |
| Zendesk | 8.4 | 7.9 | 8.2 |
| ServiceDesk Plus | 8.0 | 8.0 | 8.0 |
| N-able MSP | 7.6 | 7.0 | 7.2 |
Well the crowd seems to love us overall but here are a couple of interesting observations — Halo, Itarian and Freshdesk are hitting it out of the park by providing exceptional support while N-able needs to really pick it up. Our efforts at making implementation as smooth as possible have been appreciated by the G2 crowd, while Halo and N-able clearly have their work cut out.
| | |
| --- | --- |
| We don't need to convince you on our functionality and reporting! | |
Analytics and reporting
Before we present our case, we would like to go ahead and present what others on the list offer.
Let's just say data reporting and visualization are not the key focus for some of our participants like Itarian and N-able. They do the basic level of reporting. Freshdesk, Zendesk, ServiceDesk Plus, and Zoho Desk are very much focused on bringing you the best customer insights to help improve your CX offerings. They all provide real-time data analytics with deep introspection from ticket to user and agent to process level. Halo takes it a step further with better visualization of the analytics and at SuperOps.ai we believe in cutting down all the noise and bringing your data to life with best-in-class data visualization.
Our choices for analytics and reporting are as follows:
Freshdesk, Zendesk, ServiceDesk Plus, Zoho Desk

Itarian and N-able MSP manager
Now that we have spent considerable time collating this, do we need to spell out loud which is the best ticketing tool for IT service providers? With wins in most categories, SuperOps.ai is without a doubt the best ticketing solution for IT MSPs.
Here's our final list of the five best ticketing tools for IT MSPs.
Do you think we missed something? Or feel that our verdict is not fair?